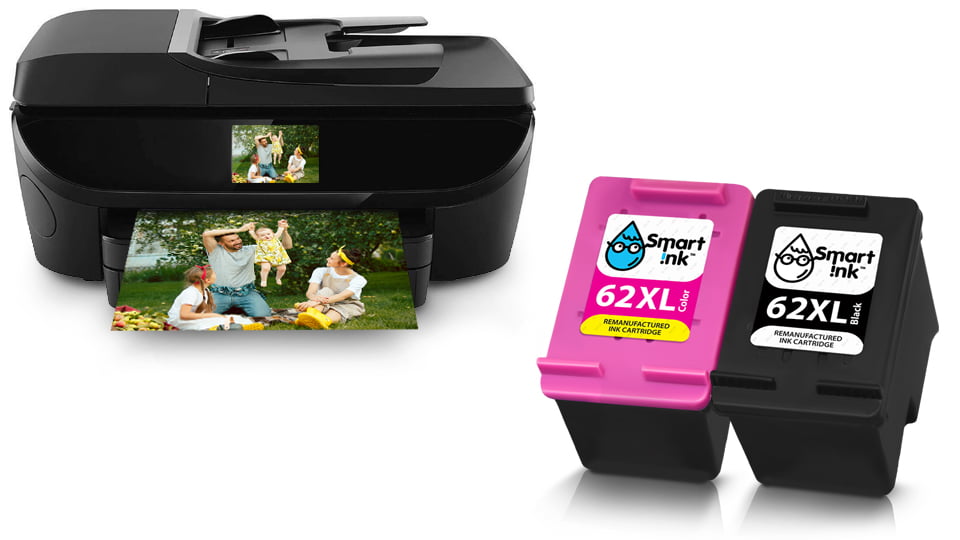 Smart Ink compatible ink cartridges for your HP Envy 5544:
The HP Envy 5544 offers you high-speed printing at up to 20 black and white drafts or up to 16 color drafts per minute with up to 4800 x 1200 dpi resolution. It allows for worry-free copying, scanning, and ensures a smoother process with its mobile printing features. 
Here at Smart Ink, you can switch to more affordable, high-quality replacement for your printer. Our Remanufactured Smart Ink 62XL 2 Combo Pack Ink Cartridges provide prolonged storage time (up to 18 months), and offer a 600-page yield for the black cartridge, and 480 for the tricolor cartridge. Buy here now 2 combo sets and get 10% off + free shipping!
GREAT SAVINGS! Save up to CDN$ 270 per purchase compared to original cartridges.
PLUG & PRINT! Installs perfectly in your HP Envy 5544 printer.
2-YEAR MONEY-BACK GUARANTEE! It's a no-risk purchase.
HIGHLY RECOMMENDED BY CUSTOMERS! ⭐️⭐️⭐️⭐️⭐️
Smart Ink offers high-quality replacement cartridges for your HP Envy 5544 printers with a 2-year warranty and 24/7 customer support.
Using our Smart Ink compatible cartridges in your Envy 5544 printer does not void the printer's warranty.
INK CARTRIDGES THAT WORK PERFECTLY WITH THE HP Envy 5544
How to install compatible ink cartridges in the HP Envy 5544
What you need to know before the installation:

Do not touch the chip or the ink nozzles. This can result in clogs, ink failure and poor electrical connections. 

Avoid mixing cartridges from different suppliers simultaneously – the printer may not recognize them properly. 

The Smart Ink team strongly recommends using only high-quality ink from one producer to extend printer life.

Remove the plastic protective cap from the ink cartridge.

Use the pink pull tab to remove the protective tape.




Attention: Do not remove copper-colored contacts from the ink cartridge. 

Install the cartridge into the corresponding slot, and push it forward until the cartridge firmly locks into place.
Note: The color ink cartridge should be installed in the left slot. The black ink cartridge should be installed in the right slot.