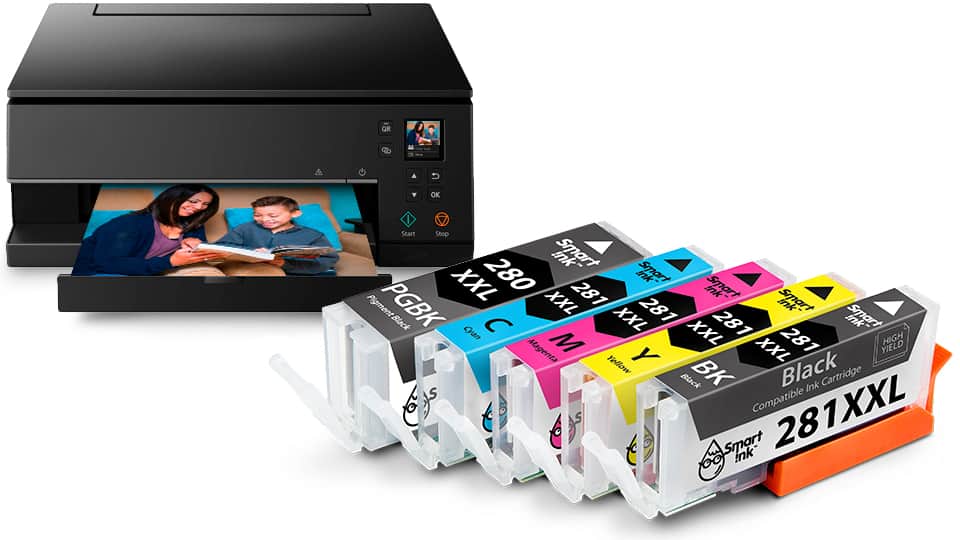 Smart Ink compatible ink cartridges for your Canon Pixma TS6320 printer:
GREAT SAVINGS! Save up to $200 per purchase compared to original cartridges.
PLUG & PRINT! Installs perfectly in your Canon Pixma TS6320 printer.
2-YEAR MONEY-BACK GUARANTEE! It's a no-risk purchase.
HIGHLY RECOMMENDED BY CUSTOMERS! ⭐️⭐️⭐️⭐️⭐️
Smart Ink offers high-quality replacement cartridges for your Canon Pixma TS6320 printers with a 2-year warranty and 24/7 customer support.
Using our Smart Ink compatible cartridges in your Canon Pixma TS6320 printer does not void the printer's warranty.
INK CARTRIDGES THAT WORK PERFECTLY WITH THE CANON PIXMA TS6320
Canon Pixma TS6320
Canon Pixma TS6320 is a compact, user-friendly, intuitive device. Its features and specifications made it convenient for office work or home routine.
Like the vast majority of modern printers, ts6320 effortlessly connects to Wi-Fi, is compatible with operating systems, e.g. Windows, Mac, IOS, Android. It works via Canon PRINT app, Apple AirPrint, Morphia and Easy-PhotoPrint Editor. 
Device provides lots of automatic functions: auto paper width detection, auto power On/Off, auto print head alignment. The gadget is able to use plain, super high gloss, matte and semi-gloss paper. With the help of that it prints business cards, labels, greeting cards, square photos, not to mention images and documents.
The Canon Pixma TS6320 ink structure is an exceptional one with five individual ink that empowers printing in vivid, sharp colors. By virtue of this you are not obliged to restore the whole ts6320 ink cartridge when one color is missing.
Print speed is also quite high and reaches up to 15 monochrome pages per minute. With the right canon ts 6320 ink you will enjoy remarkable printed images, texts and graphics. It's strongly recommended keeping a replacement set of printer cartridges on hand, just in case!
Ts6320 ink replacement won't be a problem with our 100% compatible cartridges. Our commodities are momentarily recognized by the printer, work instantly after insertion, and contain components identical to the original pixma ts6320 ink cartridges. You will relish our products' excellence and save your capital by reducing your cost-per-print to a minimum. The only distinction between original ts6320 ink cartridges and Smart Ink's one is cost.
We provide a 2-year-money-back guarantee for your purchase. However, most likely it will not be needed, because quality is our fundamental priority. Every canon ts6320 ink cartridge is delivered free of any blights and lasts long.
Should any issues about the installation arise, you can contact customer support at any time. We are ready to answer your questions 24/7!