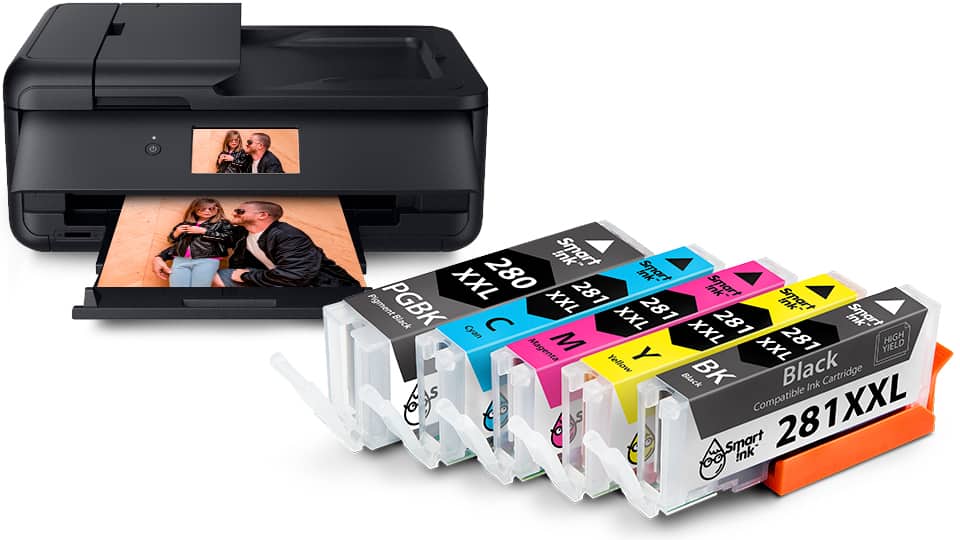 Smart Ink compatible ink cartridges for your Canon Pixma TS9520 printer:
GREAT SAVINGS! Save up to $200 per purchase compared to original cartridges.
PLUG & PRINT! Installs perfectly in your Canon Pixma TS9520 printer.
2-YEAR MONEY-BACK GUARANTEE! It's a no-risk purchase.
HIGHLY RECOMMENDED BY CUSTOMERS! ⭐️⭐️⭐️⭐️⭐️
Smart Ink offers high-quality replacement cartridges for your Canon Pixma TS9520 printers with a 2-year warranty and 24/7 customer support.
Using our Smart Ink compatible cartridges in your Canon Pixma TS9520 printer does not void the printer's warranty.
INK CARTRIDGES THAT WORK PERFECTLY WITH THE CANON PIXMA TS9520
Canon Pixma TS9520
Canon printers are known to be great devices for office and home use. They are modern, customer-friendly, and stylish and offer to print documents alongside high-quality photos. FINE (full-photolithography Inkjet Nozzle Engineering) printing technology and 5 canon pixma ts9520 ink cartridges produce exceptionally detailed images. And if treated well, with the right ink and paper, they can save the clarity of images, photos, and documents for up to 100 years.
TS9520 is well-built and designed, provides a range of options to connect and work with, including wireless printing via Wifi, Apple AirPrint, and Mopria. You can also monitor printer operation with virtual helpers – Amazon Alexa, Google Assistant.
This is an inkjet printer, so remember to put in only compatible canon pixma ts9520 ink cartridges and replace the pack just as soon as necessary. It's essential to know that the majority of companies manufacturing printing devices don't recommend refilling printer ink. In lieu of it they advise buying suitable cartridges, for example, canon ts9520 ink cartridges. 
To take the best advantage of a gadget, one is required to supply it optimally. With the help of supreme ts9520 ink you may print up to 10 pages per minute in color and in black the print speed reaches 15 ipm. Canon pixma is equipped with double-sided printing to reduce your paper consumption. Which means that the quality of pixma ts9520 ink must be at an appropriate level in order that your inkjet does not put any smudges, blurs and streaks on pictures as well as on documents.
We offer yellow, black, cyan and magenta ink for canon ts9520 in conjunction with a 2-year full warranty. Smart ink products are quite trouble-free to set and work right after installation. Buying an inexpensive, high-quality canon ts9520 ink cartridge is always a smart idea.