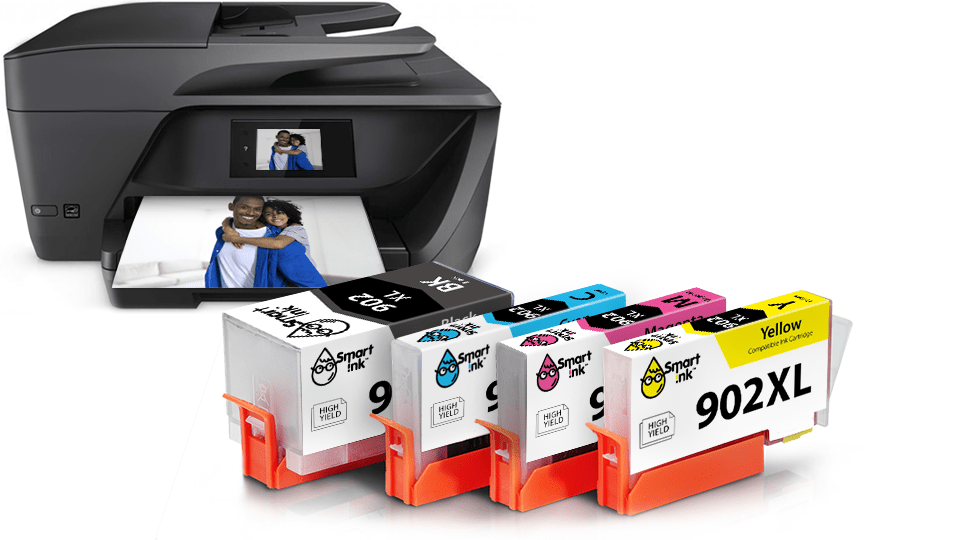 Smart Ink compatible ink cartridges for your HP OfficeJet 6950 All-in-One printer:
GREAT SAVINGS! Save up to $200 per purchase compared to original cartridges.
PLUG & PRINT! Installs perfectly in your HP 6950 printer.
2-YEAR MONEY-BACK GUARANTEE! It's a no-risk purchase.
HIGHLY RECOMMENDED BY CUSTOMERS! ⭐️⭐️⭐️⭐️⭐️
Smart Ink offers high-quality replacement cartridges for your HP OfficeJet 6950 printers with a 2-year warranty and 24/7 customer support.
Using our Smart Ink compatible cartridges in your OfficeJet 6950 printer does not void the printer's warranty.
INK CARTRIDGES THAT WORK PERFECTLY WITH THE HP OFFICEJET 6950
HP Officejet 6950
This printer is designed for both business and home use. Its high speed of work allows you to implement projects without slowing down work. The quality of printing with
HP 6950 ink
will help you stand out from the crowd. There is a possibility of mobile printing and easy mobile device connection set-up. 
Not all cartridges are compatible with HP Officejet 6950 ink. These printers use dynamic security to block third-party chips or HP 6950 ink cartridges. Periodic firmware updates keep these tools running efficiently and can block previously working cartridges. 
Smart Ink cartridges are highly compatible and can safely be used as HP Officejet 6950 ink replacement. We also use recyclable chips, and our electronic circuits allow you to use reused, remanufactured and refilled cartridges.
Here are some other advantages of using Smart Ink cartridges as HP printer 6950 ink:
Saving money on printing. The only difference between the original and Smart Ink

HP printer 6950 ink

is the price. 

Quick installation. Our

HP 6950 printer cartridges

are installed faster than you get your order in a fast food restaurant. If you are an inexperienced user and you don't know how to install

HP 6950 cartridge

, you can follow our instructions on the cartridge box or online. In case of any problems, you can also contact our technical support. We work 24/7.

High compatibility. Our

HP Officejet 6950 printer ink

works immediately upon installation. You won't have any problem with the printer not recognizing the cartridge. Approved by thousands of our highly satisfied customers.

2-year guarantee. We are so confident in the quality of our ink that we provide a 2-year guarantee of it! Try to use it in your

Officejet 6950 cartridges

,

and you won't notice any difference from the original cartridges. 
Frequently asked questions about HP 6950
What ink does HP 6950 use?
The HP 6950 printer uses HP 902L and 902XL ink cartridges. These come in black, cyan, magenta, and yellow.
How do I change the ink on my HP OfficeJet 6950?
Turn on your HP OfficeJet Pro 6950 and open the cartridge access door. Wait until the carriage stops moving before you continue. This should take only a few seconds.
Hold the ink cartridge for HP OfficeJet Pro 6950 upside down for 1-2 minutes. Then remove orange protective cap carefully.
Match the label color with the color on the carriage. Then install the cartridge into the corresponding slot.
If the ink cartridge does not seat properly, remove it from the carriage. Gently bend the tab away from the cartridge, and reinsert it into the carriage.