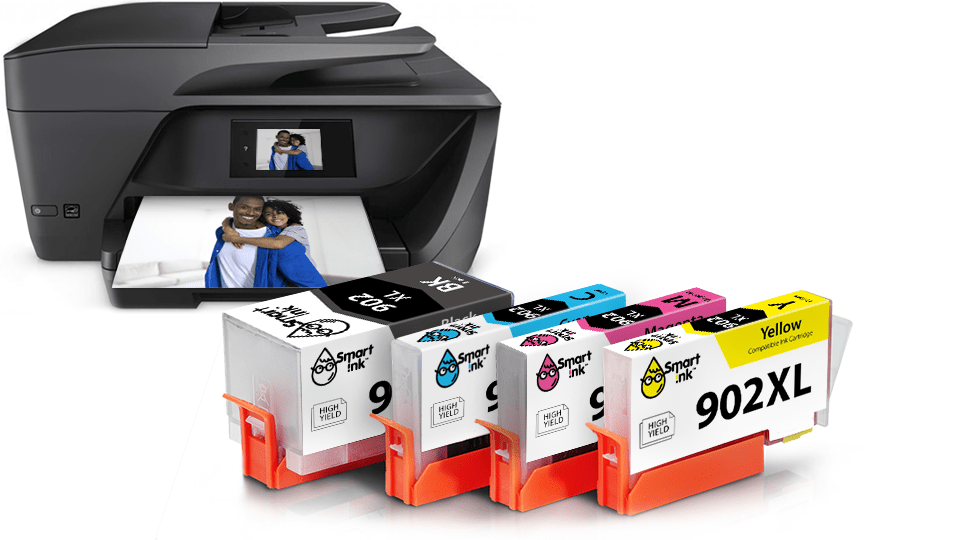 Smart Ink compatible ink cartridges for your HP OfficeJet 6958 All-in-One printer:
GREAT SAVINGS! Save up to $200 per purchase compared to original cartridges.
PLUG & PRINT! Installs perfectly in your HP 6958 printer.
2-YEAR MONEY-BACK GUARANTEE! It's a no-risk purchase.
HIGHLY RECOMMENDED BY CUSTOMERS! ⭐️⭐️⭐️⭐️⭐️
Smart Ink offers high-quality replacement cartridges for your HP OfficeJet 6958 printers with a 2-year warranty and 24/7 customer support.
Using our Smart Ink compatible cartridges in your OfficeJet 6958 printer does not void the printer's warranty.
INK CARTRIDGES THAT WORK PERFECTLY WITH THE HP OFFICEJET 6958
HP OfficeJet 6958
HP 6958 is a high-performance printer with intelligent features that will never let you down. You can always count on uninterrupted connection and advanced security features, as well as print and scan directly from your phone when you have HP printer 6958 ink filled. The device is ready to perform printing tasks of different types and is easily operated. With our cartridges for HP Officejet 6958, you can experience high-quality printing for a smart price.
This printer model provides a number of features. Smart Ink for HP 6958 printer only complemented these features.
The printer performs Smart Tasks shortcuts and automatic two-sided printing. With our HP printer 6958 ink cartridges, your printing can be even more cost-effective. Our cartridges are highly compatible and work just as well as the original ones but are lower in price. You can also save more if you buy in bulk. It's always a good idea to have some ink in store!
We care about the environment and sustainability just as much as HP manufacturers. This printer is made from recycled plastics and other electronics, which comprise more than 15% of the total device. Our HP 6958 printer cartridges also include recyclable chips and remanufactured electronic circuits.
The printer allows you to work faster without unnecessary actions due to its 35-page automatic document feeder. Its color touch screen provides the options to control printing, scanning and copying with simple gestures. Our ink cartridges for HP 6958 printer also work immediately upon installation and quickly operate, which saves time on the printing process. However, if you do have a problem installing HP Officejet 6958 printer ink, our support team is ready to help you anytime you need. We work 24/7!
This printer is often chosen for its impeccable quality of work. In combination with our ink for HP Officejet 6958 printer, you can reach an even more pleasant user experience of printing. Smart Ink HP 6958 cartridges ensure high-quality printing and have a 2-year guarantee. 
With Smart Ink printer cartridges for HP 6958, you can perform any printing task you need. We do our best to provide trouble-free and excellent quality printing.