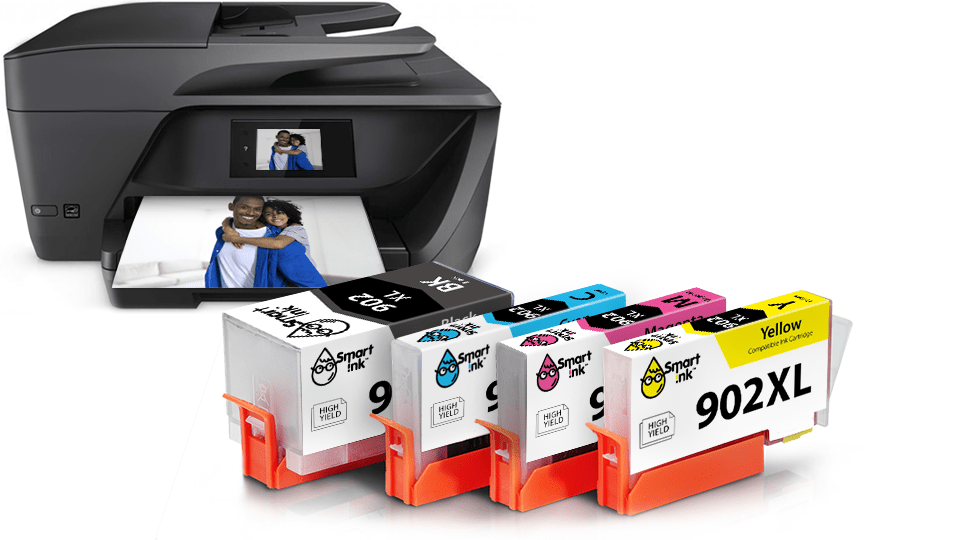 Smart Ink compatible ink cartridges for your HP OfficeJet 6960 All-in-One printer:
GREAT SAVINGS! Save up to $200 per purchase compared to original cartridges.
PLUG & PRINT! Installs perfectly in your HP 6960 printer.
2-YEAR MONEY-BACK GUARANTEE! It's a no-risk purchase.
HIGHLY RECOMMENDED BY CUSTOMERS! ⭐️⭐️⭐️⭐️⭐️
Smart Ink offers high-quality replacement cartridges for your HP OfficeJet 6960 printers with a 2-year warranty and 24/7 customer support.
Using our Smart Ink compatible cartridges in your OfficeJet 6960 printer does not void the printer's warranty.
INK CARTRIDGES THAT WORK PERFECTLY WITH THE HP OFFICEJET PRO 6960
HP OfficeJet Pro 6960
HP Officejet 6960 is a multi-functional printing device of A4 format. It is a color printer, copier, scanner and even a fax machine. The manufacturer positions it as a product of the middle price category, intended for use in small and medium-sized offices. However, it is a good fit for printing at home with
HP Officejet 6960 printer ink
. You can experience professional-quality color printing for half the price of laser printers with
6960 HP printer ink
. Learn more about the benefits of combining
HP Officejet Pro 6960 with our ink cartridge replacement
below.
The printer provides direct printing of documents or images from smartphones and tablets running on Android and iOS. With the right ink for Officejet 6960, the monthly print volume can reach from 800 to 12,000 pages. HP Officejet Pro 6960 allows you to save paper with automatic two-sided printing. You can save even more with Smart Ink HP 6960 cartridges. Our cartridges are highly compatible and work as well as the original ones. We offer an additional discount if you buy 2 or more packs of ink for a 6960 printer. It's always a good idea to have some ink in store! 
HP printers are known for their functionality and fast operation. Thanks to the Fast Ethernet LAN port and the Wi-Fi module, they are easily integrated into the existing cable or wireless network infrastructure. Our HP Officejet 6960 ink cartridges also work seamlessly upon installation. They are easily installed and take no time before starting to work. However, if any problems occur with the installation of our HP 6960 ink cartridges, you can always contact our support center. We work around the clock for your convenience and are ready to guide you step-by-step for successful Officejet 6960 ink cartridge installation. 
Ink for Officejet Pro 6960 must match the quality of the printer. Smart Ink provides outstanding printing quality. You won't notice any difference from the original cartridges. In fact, we are so confident in the quality of our HP 6960 compatible ink cartridges that we provide a 2-year guarantee. 
Smart ink for HP Office jet Pro 6960 also provides worldwide delivery. Therefore, no matter where you go, we will deliver ink to help you print all you need. In addition to it, our delivery is completely free of charge. Smart Ink compatible cartridges can be installed in most of the popular printer models. You can check which cartridge is compatible with your printer on our website by entering the printer's brand, family and model. In case you want to clarify any information about Smart Ink cartridges, contact our support center for a consultation anytime.
Experience printing of the best quality with HP Officejet 6960 cartridges from Smart Ink.
Frequently asked questions about HP 6960
What ink does HP 6960 use?
The HP 6960 printer uses HP 902L and 902XL ink cartridges. These come in black, cyan, magenta, and yellow.
How do I change the ink on my HP OfficeJet Pro 6960?
Turn on your HP OfficeJet Pro 6960 and open the cartridge access door. Wait until the carriage stops moving before you continue. This should take only a few seconds.
Hold the ink cartridge for HP OfficeJet Pro 6960 upside down for 1-2 minutes. Then remove orange protective cap carefully.
Match the label color with the color on the carriage. Then install the cartridge into the corresponding slot.
If the ink cartridge does not seat properly, remove it from the carriage. Gently bend the tab away from the cartridge, and reinsert it into the carriage.