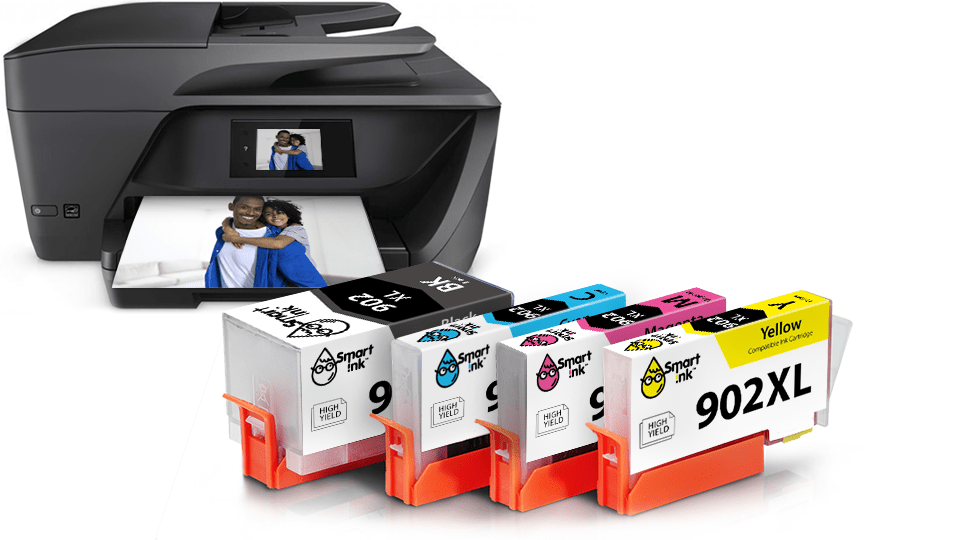 Smart Ink compatible ink cartridges for your HP OfficeJet 6962 All-in-One printer:
GREAT SAVINGS! Save up to $200 per purchase compared to original cartridges.
PLUG & PRINT! Installs perfectly in your HP 6962 printer.
2-YEAR MONEY-BACK GUARANTEE! It's a no-risk purchase.
HIGHLY RECOMMENDED BY CUSTOMERS! ⭐️⭐️⭐️⭐️⭐️
Smart Ink offers high-quality replacement cartridges for your HP OfficeJet 6962 printers with a 2-year warranty and 24/7 customer support.
Using our Smart Ink compatible cartridges in your OfficeJet 6962 printer does not void the printer's warranty.
INK CARTRIDGES THAT WORK PERFECTLY WITH THE HP OFFICEJET 6962
HP OfficeJet 6962
HP 6962 is a convenient and functional printer solution for both home and office use. With Officejet 6962 ink cartridges, you can print documents with professional-quality color for half the price. This device also allows you to save paper with automatic two-sided printing. Our printer cartridges for HP Officejet 6962 allow you to get more done in the same amount of time. Experience the convenience of wireless printing features and easy set-up from mobile devices.
Not all cartridges for HP Officejet 6962 ink change are compatible with the printer. The device may block some HP Officejet 6962 ink cartridge replacements, and you will not be able to print with the new cartridge. However, Smart Ink cartridges are highly compatible with HP printers and are recommended for HP 6962 ink refill. Our HP 6962 cartridges are quickly installed and work immediately upon installation. If it's your first time installing the printer cartridges and you need instructions or if any problems occur, you can contact our support center anytime. We work 24/7 to help our customers all over the globe to have the best experience of HP Officejet 6962 ink replacement.
Why choose Smart Ink as Officejet 6962 cartridges?
Impeccable quality. Our

ink for HP Officejet 6962

is a perfect combination with the professional color printing the device performs. You won't see any difference from the original

HP printer 6962 ink cartridges

.

In fact, we are so confident in the quality of our product that we provide a 2-year guarantee for all our cartridges. 

Affordable price. Smart Ink

printer ink for HP 6962

is

a cost-effective choice. Why overpay for the brand if you can get the same for a lower price? We also provide discounts if you buy

cartridges for HP Officejet 6962

in bulk. Our products are shipped worldwide free of charge.

Sustainable printing. We care about our planet and the rising global issues. Therefore, we provide sustainable solutions, such as remanufactured

HP 6962 printer ink cartridges

. They are produced from cartridges that have already been used after careful cleaning and refilling. Remanufactured cartridges provide almost the same quality as the new ones and are lower in price. They work well as

HP Officejet 6962 replace ink

and help to curb environmental issues. 
Make your smart printing choice with Smart Ink cartridges for HP 6962!