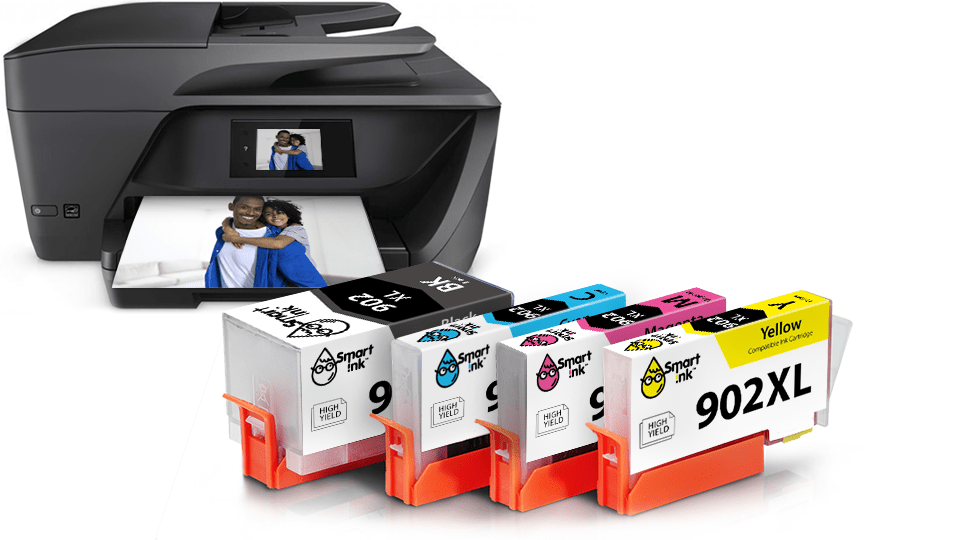 Smart Ink compatible ink cartridges for your HP OfficeJet 6968 All-in-One printer:
GREAT SAVINGS! Save up to $200 per purchase compared to original cartridges.
PLUG & PRINT! Installs perfectly in your HP 6968 printer.
2-YEAR MONEY-BACK GUARANTEE! It's a no-risk purchase.
HIGHLY RECOMMENDED BY CUSTOMERS! ⭐️⭐️⭐️⭐️⭐️
Smart Ink offers high-quality replacement cartridges for your HP OfficeJet 6968 printers with a 2-year warranty and 24/7 customer support.
Using our Smart Ink compatible cartridges in your OfficeJet 6968 printer does not void the printer's warranty.
INK CARTRIDGES THAT WORK PERFECTLY WITH THE HP OFFICEJET PRO 6968
HP OfficeJet Pro 6968
HP printers are characterized by high productivity and mobile printing capabilities. Officejet 6968 is a great solution for printing at home, in the office and on the road. Smart
Ink cartridges for HP Officejet 6968
are highly compatible with the printer and provide outstanding printing quality.
HP Officejet 6968 is an inkjet technology printer. An inkjet printer uses liquid ink. From the capacity of the cartridge, the ink enters the nozzles of the print head, from where, with the help of heating, it is pushed out in the form of microparticles onto the paper. Due to the tiny droplet size and good quality of HP Office jet 6968 ink, you can print docs with clear text and realistic photos with a resolution of over 100,000 dots per square inch.
The device provides professional color printing features for half the price of laser printers. Smart Ink can help you lower the price of printing even more without compromising the quality. Our Officejet Pro 6968 ink cartridges work immediately upon installation and have a 2-year guarantee. We also ship Officejet 6968 ink cartridges all over the globe free of charge.
The printer allows you to reduce energy costs by lowering energy consumption by 50% compared to most models of color laser printers. The consumption of consumables and packaging is 80% lower. When idle, the printer turns off automatically. Smart Ink also cares about the environment and delivers sustainable solutions to combat global warming with Officejet Pro 6968 ink replacement. One of such solutions is remanufactured cartridges. Such HP printer 6968 ink cartridges are made from already used ones. After being neatly cleaned and refilled, they are sold again. Remanufactured HP Officejet 6968 ink cartridges are lower in price but are almost equal in quality to the new ones.
We have gathered a community of over 650,000 customers globally who use our replacement ink for hp 6968 and other printers. We deeply care about our customers and are constantly working on perfecting HP Officejet Pro 6968 cartridges and those for other printer models. If you are not sure that the cartridge you have chosen fits your printer, you can check it on our website by entering your printer brand, family and model or contact our support center anytime.
Decided to buy ink for a 6968 HP printer? Place an order online or give us a call. Our service works 24/7. We will answer all your questions and help you choose the best option for you.
Frequently asked questions about HP OfficeJet Pro 6968
What ink does HP OfficeJet Pro 6968 use?
The HP 6968 printer uses HP 902L and 902XL ink cartridges. These come in black, cyan, magenta, and yellow.
How do I change the ink on my HP OfficeJet Pro 6968?
Turn on your HP OfficeJet Pro 6968 and open the cartridge access door. Wait until the carriage stops moving before you continue. This should take only a few seconds.
Hold the ink cartridge for HP OfficeJet Pro 6968 upside down for 1-2 minutes. Then remove orange protective cap carefully.
Match the label color with the color on the carriage. Then install the cartridge into the corresponding slot.
If the ink cartridge does not seat properly, remove it from the carriage. Gently bend the tab away from the cartridge, and reinsert it into the carriage.