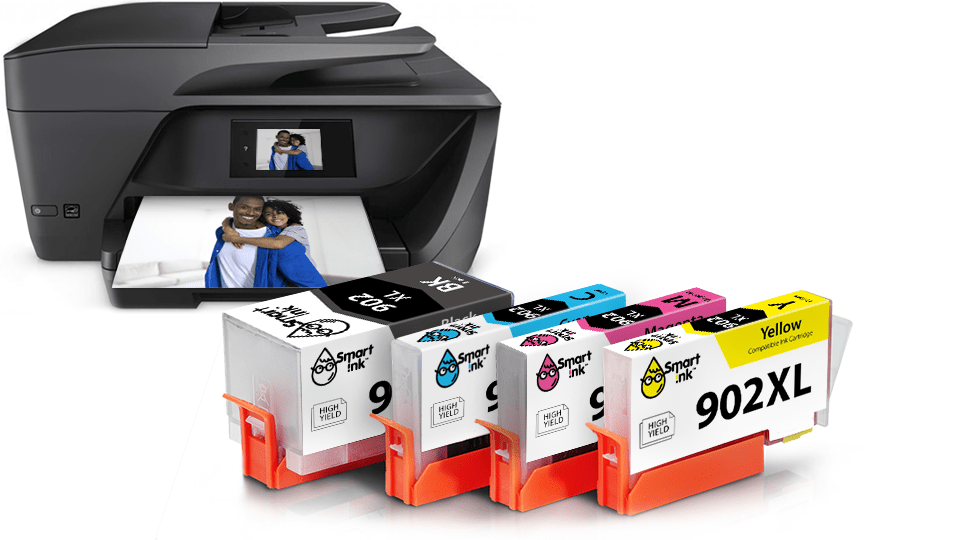 Smart Ink compatible ink cartridges for your HP OfficeJet 6975 All-in-One printer:
GREAT SAVINGS! Save up to $200 per purchase compared to original cartridges.
PLUG & PRINT! Installs perfectly in your HP 6975 printer.
2-YEAR MONEY-BACK GUARANTEE! It's a no-risk purchase.
HIGHLY RECOMMENDED BY CUSTOMERS! ⭐️⭐️⭐️⭐️⭐️
Smart Ink offers high-quality replacement cartridges for your HP OfficeJet 6975 printers with a 2-year warranty and 24/7 customer support.
Using our Smart Ink compatible cartridges in your OfficeJet 6975 printer does not void the printer's warranty.
INK CARTRIDGES THAT WORK PERFECTLY WITH THE HP OFFICEJET PRO 6975
HP OfficeJet Pro 6975
HP OfficeJet Pro 6975 is a revolutionary smart printer that works the way you want it to. Save time with convenient Smart Task shortcuts and a user-friendly printing experience with Smart Ink cartridges for HP OfficeJet Pro 6975. Enjoy automatic two-sided printing and scanning, seamless connection and best-in-class HP security features. Print and scan right from your phone.
The company claims that the printer is designed for use only with cartridges equipped with an original HP chip. However, our Smart Ink cartridges for HP 6975
are highly compatible and provide the same quality as the original ones for a lower price. Our HP OfficeJet Pro 6975 ink cartridges allow you to print more pages and get HP OfficeJet Pro 6975 ink replacement less often. Print vibrant, professional-quality graphics, ideal for office use and presentations. You will also enjoy rich black text on all your business documents.
Here are some other benefits of choosing Smart Ink for HP OfficeJet 6975:
24/7 customer support. Over the years of our work, we have built a community of over 650,000 users all over the world. To provide an outstanding customer experience, we are ready to place an order, help you with

HP OfficeJet 6975 ink cartridges

installation or answer any other questions you have about our product's work.

2-year money-back guarantee. We strive to provide the best quality

ink for OfficeJet Pro 6975.

However, in case our product does not match your expectations, you can get a refund within 2 years of its purchase.

Discounts for large packs and free shipping. We want to make your purchase of

ink for HP 6975 printer

and other printers smart. Therefore, we provide free shipping all over the globe and a 20% discount for every large pack of

HP OfficeJet 6975 ink

you buy. It's always a good idea to have some ink in store, right?
Need printer cartridges for HP OfficeJet Pro 6975 or other printer models? Place an order on our website or contact our support center anytime. 
Smart Ink — Your smart choice!