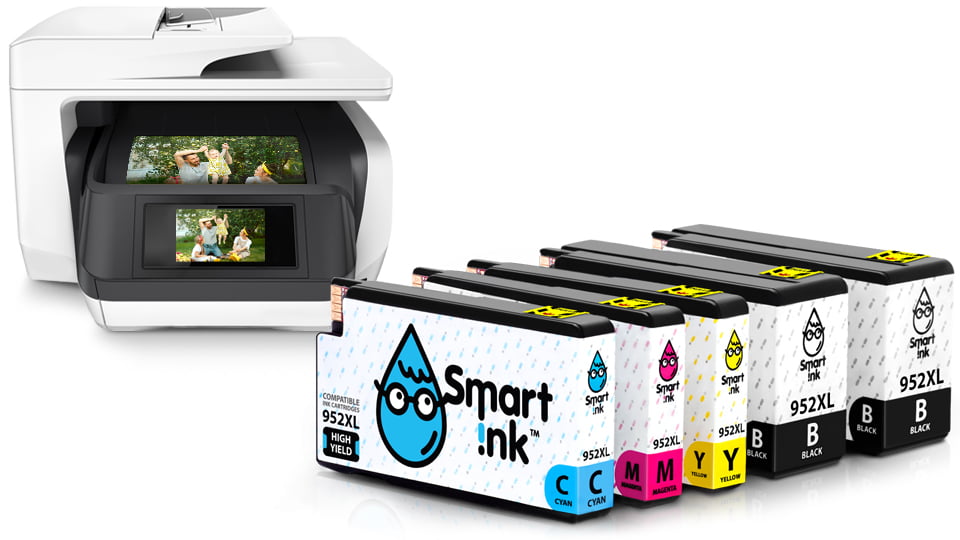 Smart Ink compatible ink cartridges for your HP Officejet Pro 7720 printer:
GREAT SAVINGS! Save up to $200 per purchase compared to original cartridges.
PLUG & PRINT! Installs perfectly in your HP Officejet Pro 7720 printer.
2-YEAR MONEY-BACK GUARANTEE! It's a no-risk purchase.
HIGHLY RECOMMENDED BY CUSTOMERS! ⭐️⭐️⭐️⭐️⭐️
Smart Ink offers high-quality replacement cartridges for your HP Officejet Pro 7720 printers with a 2-year warranty and 24/7 customer support.
Using our Smart Ink compatible cartridges in your HP Officejet Pro 7720 printer does not void the printer's warranty.
INK CARTRIDGES THAT WORK PERFECTLY WITH THE HP OFFICEJET PRO 7720
HP Officejet Pro 7720
HP Officejet Pro 7720 is a multi-functional printing device. It is a printer, scanner, copier and fax machine. With our ink for OfficeJet Pro 7720, you can maximize the potential of this device!
Here are the benefits of using the device with HP OfficeJet Pro 7720 compatible Smart ink:
High standard of printing.

The device has a high resolution of printing, which extends to 1200 x 1200 rendered dpi for black and up to 4800 by 1200 optimized dpi for color printing. Our

printer ink for HP OfficeJet Pro 7720

is also carefully checked before shipping and provides outstanding quality.

Fast work.

The device can print up to 22 pages per minute in black&white and up to 18 ppm in color. Smart

ink cartridges for HP 7720

are highly compatible with the device and work right upon installation. We implement the latest chip version in our

cartridges for HP OfficeJet Pro 7720

and other printer models. Therefore, they work without any interruptions. However, if you do notice a problem, we have introduced a 2-year money-back policy.  

Extended printing capacity.

The printer's recommended monthly page volume ranges between 250-1500 pages. Its monthly duty cycle is up to 30,000 pages. Our

ink cartridges for HP OfficeJet Pro 7720

also provide long service. Moreover, we have introduced an ink-level tracking technology that allows our customers to be aware of the ink left in the cartridge and order the new ones on time. 

Affordable solution.

The device allows you to use the functions of printing, scanning, faxing and copying in one place. Smart

ink for HP OfficeJet Pro 7720

will allow you to save more on quality printing. Thanks to the latest chip function, our cartridges fit as well as the original ones for a lower price. We also provide discounts for buying ink in bulk.  

Free global shipping.

Smart Ink is customer-oriented, therefore we want to allow you to experience quality and cost-efficient printing anywhere you are. We provide free shipping of

printer cartridges for HP OfficeJet Pro 7720

and other printer models. 
Need ink for HP OfficeJet 7720? Place an order online or contact our customer support center anytime. We work 24/7 for your convenience!
How to install compatible ink cartridges in the HP Officejet Pro 7720
What you need to know before the installation:

Do not touch the chip or the ink port, which can result in clogs, ink failure and poor electrical connections.
Avoid mixing cartridges from different suppliers simultaneously – the printer may not recognize them properly.
If the HP Officejet Pro 7720 has not been used for a long period of time, we recommend running the printhead cleaning cycle up to 3 times to remove ink residue (refer to the printer manual).
The Smart Ink team strongly recommends using only high-quality ink from one producer to extend HP Officejet Pro 7720 printers' life.

Turn on your HP Officejet Pro 7720 and open the cartridge access door. Wait until the carriage stops moving before you continue. This should take only a few seconds.
Hold the ink cartridge for HP Officejet Pro 7720 upside down for 1-2 minutes. Then remove orange protective cap carefully.
Match the label color with the color on the carriage. Then install the cartridge into the corresponding slot.
If the ink cartridge does not seat properly, remove it from the carriage. Gently bend the tab away from the cartridge, and reinsert it into the carriage.