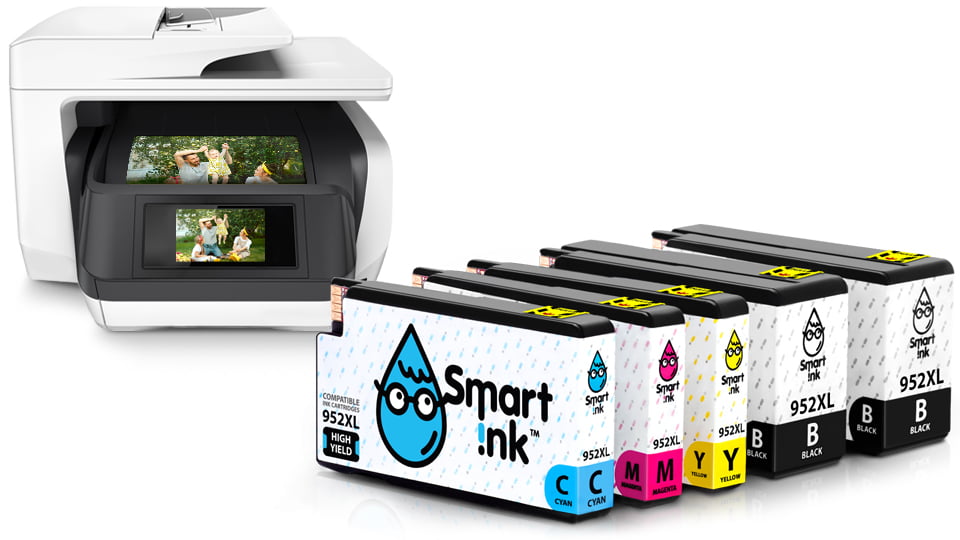 Smart Ink compatible ink cartridges for your HP Officejet Pro 8210 printer:
GREAT SAVINGS! Save up to $200 per purchase compared to original cartridges.
PLUG & PRINT! Installs perfectly in your HP Officejet Pro 8210 printer.
2-YEAR MONEY-BACK GUARANTEE! It's a no-risk purchase.
HIGHLY RECOMMENDED BY CUSTOMERS! ⭐️⭐️⭐️⭐️⭐️
Smart Ink offers high-quality replacement cartridges for your HP Officejet Pro 8210 printers with a 2-year warranty and 24/7 customer support.
Using our Smart Ink compatible cartridges in your HP Officejet Pro 8210 printer does not void the printer's warranty.
INK CARTRIDGES THAT WORK PERFECTLY WITH THE HP OFFICEJET PRO 8210
HP OfficeJet Pro 8210 is an affordable color printing solution. It has a convenient control panel and provides professional quality color printing with HP OfficeJet 8210 ink cartridges. You can increase your work productivity by choosing this printer model and Smart ink cartridges for HP OfficeJet Pro 8210.
Effective work.

The device is equipped with a display 5.08 cm (2″) in diagonal and a keyboard for convenient data entry and ensuring work efficiency. Thanks to the two-sided printing function and our

HP OfficeJet Pro 8210 printer cartridges

, you will be able to cope with tasks faster. They are quickly installed and work immediately after the installation. Print Microsoft Word and PowerPoint files as well as Adobe PDF directly from a USB drive. 

Professional quality.

Our

HP 8210 printer ink cartridges

provide professional-quality color and black-and-white printing that's perfect for creating reports, letters, and other documents. Printed materials are resistant to fading&moisture and do not smear when highlighted with a marker. We provide

OfficeJet Pro 8210 ink cartridges

of high quality and long work. However, if you do find a problem with Smart

ink for HP 8210 printer

,

you can get a refund, as we have a 2-year money-back guarantee. 

Affordable price.

Save on costs with professional-quality color printing at 50% less than laser printers. Additionally, our high-capacity

HP OfficeJet Pro 8210 ink cartridges

will allow you to print more pages than the original cartridges with no difference in quality. We also provide discounts for in-bulk purchases of

ink for HP OfficeJet 8210

.

24/7 support & worldwide shipping.

We want more and more HP printer owners to enjoy high-quality printing for an affordable price. Therefore, we provide shipping of

HP 8210 printer ink

around the globe. You can also place an order or contact our support center at any time in case any problem with our

HP Pro 8210 ink

occurs.
Need HP OfficeJet Pro 8210 ink replacement? Place an order online or contact our support center anytime. 
Choose smartly — Smart Ink 😉
How to install compatible ink cartridges in the HP Officejet Pro 8210
What you need to know before the installation:

Do not touch the chip or the ink port, which can result in clogs, ink failure and poor electrical connections.
Avoid mixing cartridges from different suppliers simultaneously – the printer may not recognize them properly.
If the HP Officejet Pro 8210 has not been used for a long period of time, we recommend running the printhead cleaning cycle up to 3 times to remove ink residue (refer to the printer manual).
The Smart Ink team strongly recommends using only high-quality ink from one producer to extend HP Officejet Pro 8210 printers' life.

Turn on your HP Officejet Pro 8210 and open the cartridge access door. Wait until the carriage stops moving before you continue. This should take only a few seconds.
Hold the ink cartridge for HP Officejet Pro 8210 upside down for 1-2 minutes. Then remove orange protective cap carefully.
Match the label color with the color on the carriage. Then install the cartridge into the corresponding slot.
If the ink cartridge does not seat properly, remove it from the carriage. Gently bend the tab away from the cartridge, and reinsert it into the carriage.