When buying a printer, you never understand right away how much money you'll have to spend on it. Unfortunately, the initial price of the device is the least of your expenses. What will cost you more is the ink that you'll have to buy once in a while to actually use your printer.
All printer manufacturers warn you to use exclusively original cartridges since they are the best fit for matching printer models. However, there are a lot of cheaper alternatives, such as compatible and remanufactured cartridges, which do not cost a fortune but remain high-quality.
That's why, if you are looking for cheap printer ink, read on as we are about to disclose the best ways to find it.
How to Find the Cheapest Printer Ink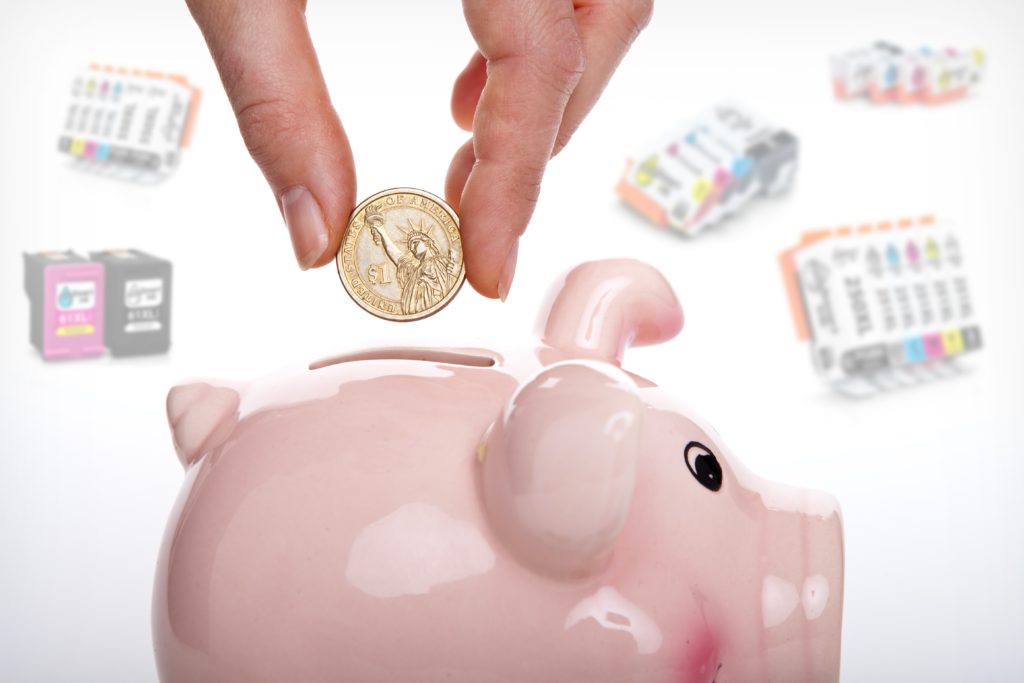 As we said, if you are searching for cheap ink cartridges, you may consider some affordable alternatives to the original ones. 
Why is original ink so expensive, you may wonder? The thing is that most manufacturers try to offset the low cost of printers by putting sky-high prices on the matching cartridges. This way, lots of users worldwide have to spend too much money printing with original ink.
Yet, we believe that people need to have a wider selection of products to choose the ones that fit best. And this logic works for printer ink as well. Because, admit it, it's nice when you have more than one option in the market, and you may regulate the price-quality ratio of the products you opt for.
Speaking of printer ink, nowadays, there are a lot of manufacturers with different pricing policies that allow you to save some money. All you need to do is switch to compatible or remanufactured cartridges. So what are these, and how are they different from the original ones?
The Cheapest Place to Buy Printer Ink Online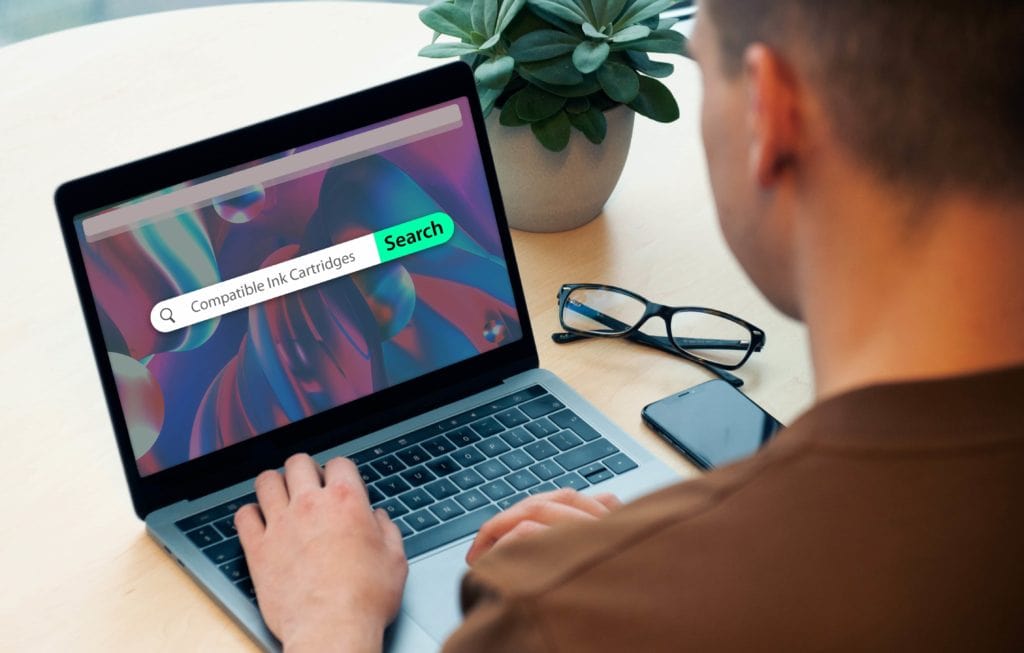 First, let's deal with the compatible cartridges. These are the ones that were produced by a third party, not the genuine printer manufacturer. For instance, Smart Ink offers a lot of cartridges compatible with most modern printer models.
Another option is remanufactured cartridges, in other words, the ones that were once used, then returned, cleaned, and refilled again.
Depending on the ink producer, both compatible and remanufactured cartridges may be of the same high quality as the original ones. So answering your question where is the cheapest printer ink, we recommend looking for such companies and buying from them directly, with no intermediaries.
Smart Ink is one of such independent manufacturers that has been in the business for years. We have developed and distributed cartridges all over the world, always complying with international quality standards and our own values. Our team cares about customers first, producing top-quality, yet affordable, printer ink that you will definitely benefit from.
Where to Buy Printer Ink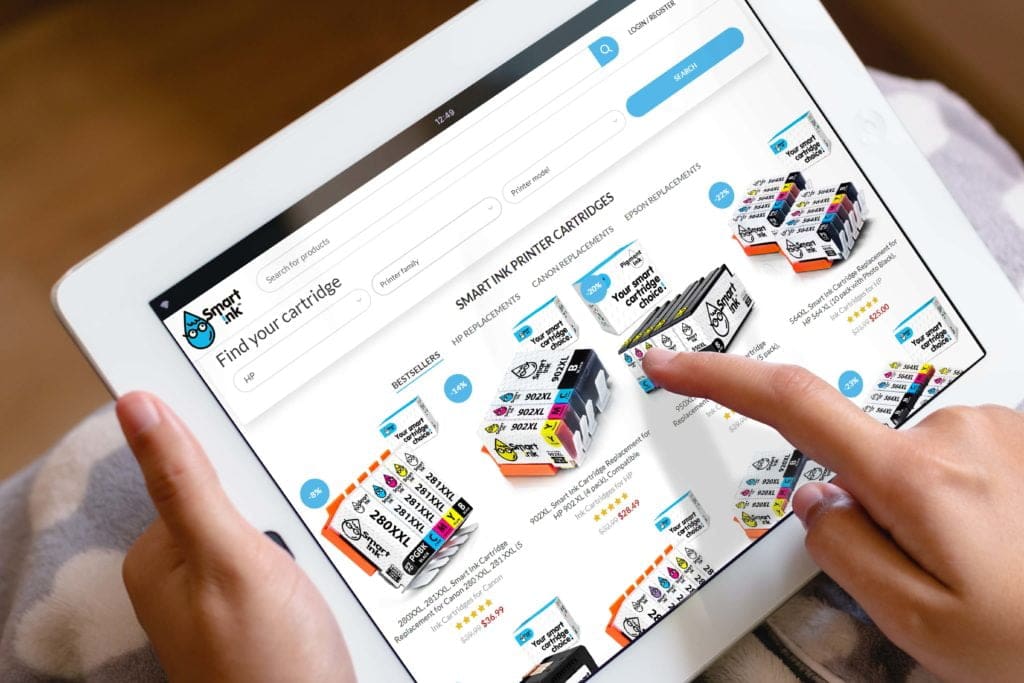 Generally, if you are looking for some places to buy printer ink, you have to choose between online and offline stores first. Though only 14% of global purchases are made online, it is a much wiser option for a consumer. Let us tell you why.
When buying a cartridge online, you can do your research, compare different manufacturers, take a look at the prices, and read reviews. 
You have a wider choice of different products online as you are not restricted by the selection of a particular store. This is another proof that the best place to buy ink cartridges is online. 
Some online shops offer free shipping that you may take advantage of. This way, you won't even need to leave your house to get a set of fresh inks for your printer.
You can make a purchase whenever is suitable for you and get a consultation on how to choose a cartridge and install it correctly. At Smart Ink, the Customer Care Team works 24/7, so you'll get timely help during the day and at night.
So if you still have a question where to buy ink for your printer, make sure to check online stores first. This will help you save up on the cartridge price and get high-quality products that you've been looking for.
And if you are not sure where to check first, trust us, you don't need to google where to buy ink cartridges for HP and Canon printers. Just use the search bar on the Smart Ink website and find a suitable ink for your printer model. It will take you only a few clicks to order a new cartridge, but the results will not be long in coming.
Where to Buy Printer Ink Near Me
Despite all the technological progress we've gone through, a lot of people are still looking for "where to buy printer ink cartridges near me". And this makes almost no sense since there are so many web stores that may deliver you new cartridges in no time.
As we have a lot of experience in the industry, we've created a list of trusted websites where you may find what you've been looking for.
Smart Ink has a wide variety of compatible and remanufactured cartridges that work well with the matching printers. The company offers inks for the majority of modern printer models, including Canon, Epson, HP, Brother, etc. Besides, the Smart Ink Customer Care Team works 24/7 and is always ready to help users choose a cartridge or install it. Another great option provided by the company is the possibility to exchange the cartridge for free if it doesn't work properly.
Amazon, being the largest world retailer, offers a huge selection of products in different categories depending on the needs of the consumer. It has a wide variety of printer ink cartridges as well.
eBay is another website that helps users find both new and used cartridges for almost any printer. Since eBay is famous for auctions and consumer to consumer sales, you may get a rather cheap cartridge if you're lucky enough. Just be careful and choose trusted sellers!
123inkjets offers original and remanufactured cartridges of different brands. Besides, it provides customers with a wide variety of printing supplies.
Best Buy is one of the biggest American electronics retailers where you may find almost any kind of cartridges you are looking for.
You are right, this list doesn't really answer the question of where to buy printer ink in your neighborhood. But as we said, it's much easier to purchase cartridges online. That's why we hope that you will find exactly what you need on the web, spend less time and effort while placing an order, and get your new cartridges in the nearest time.
And if you don't feel like browsing the web but still want to get high-quality cartridges for an affordable price, just stick to Smart Ink. It will only take you a few minutes to find a suitable cartridge on our website and place an order. But if you feel a bit lazy today, you may just send a short text in the LiveChat, and our Customer Care Team will help you get the ink you need. So don't think hard, think smart, and choose Smart Ink!