We have great news! We are ready to share the results of the poll we launched in September 2020. It's been a while, we know, but this time allowed us to collect and analyze the feedback we've got, which will help us improve the quality of our products and service. Thank you so much to all the wonderful people who took part in our poll and shared their opinion and experience. We really appreciate your help and promise to do our best to keep up the good work and meet your expectations. So here are some of the insights we've learned thanks to you:  
Around one-third of our users buy cartridges every 2-3 months.

 

Most people had bought original inks only 1-3 times before they switched to compatible cartridges. Yaaaay! Way to go, guys!

 


When choosing cartridges, people mostly pay attention to their quality, price, and compatibility. And this is very smart since these three factors are indeed the most important when selecting inks.

 

Most people find out about compatible cartridges online when looking for alternatives to the original inks. Some find them on Amazon but still prefer to purchase from our official website. Here's what one of our clients says:

"I almost never buy anything from Amazon. Prefer to patronize smaller businesses whenever possible, especially local, family-owned ones."

 


Some users are afraid that compatible cartridges won't be the same as the originals or work well with their printer.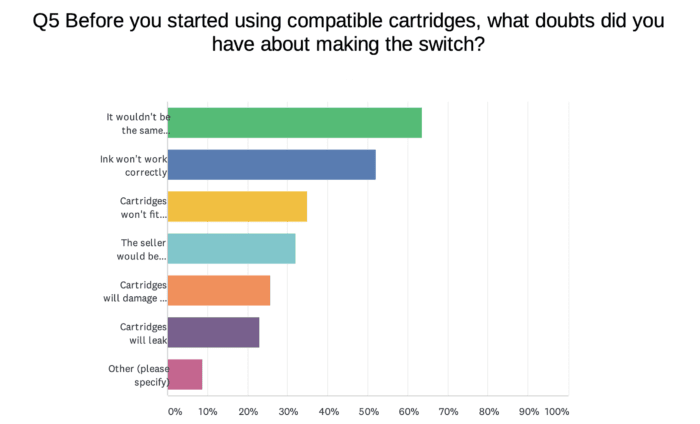 Here at Smart Ink, the Customer Care team will help you choose cartridges that will definitely fit your printer and answer all your questions. With Smart Ink, you get the same high quality as the original inks but for a reasonable price. As another customer admitted, Smart Ink is the right choice when you get "tired of paying big $$ for brand names." 

60% of our audience only thought for a few minutes before buying Smart Ink cartridges, which is incredibly flattering. We are happy that we dispel any possible doubts, but if you still have any questions – just drop us a line, we are working 24/7.

 


Most often, with Smart Ink cartridges, people print work and business documents, photos, and school files. This proves that our inks are the best choice for family use as they work well for any kind of print.
Thank you once again for taking part in this little research. It was extremely useful for our team, and we hope that it will help us become even more useful for you.